Never Used TCM Design Wheel Loader & Wheel Loader Spare Parts For Sale
Deutz TBD226B-6G (97KW)
1.7CBM bucket
Automatic cutting air brake
Tyre size 17.5-25



Main Description of wheel loader ZL30
1)Streamlined appearance design, elegant and generous.
2)Bucket of working device can be set level automatically, computer is adopted to optimize design, high working efficiency.
3)Sealed drivers cabin of new type which may allocate conditioner, more comfortable operating environment.
4)Torque device of single three components, gearbox of fixed axle type, more reliable performance.
5) Deutz TBD226B-6G (92KW) diesel engine, powerfull motive force, reliable performance, high efficiency and economizing on fuel.
6)Can allocate many kinds of selectable assembly such as wooden fork, pipe fork, grass fork, stone bucket, enlarged bucket etc. To meet the needs of various working states.
Specifications
ZL936
Rated bucket capacity
1.7M 3
Rated loading weight
3000kg
Operating weight
9970kg
Max. dump height
3100mm/3500mm
Max. dump distance
1100mm
Min. base to the ground
390mm
Wheel base
2750mm
Track base
1800mm
Performance of bucket being set level
Yes
Static tilting load at full steering position
72KN
Max. breakout force
138KN
Max. drawbar pull
90KN
Max. grade ability
30
Total time of three(lifting, dumping, lowering)
11s
Overall dimensions(length× with× height)mm
6680× 2270× 3190
Intake method
Turbocharged intercooled
Cylinder number
6
Max. torsion
480Nm
Engine
Cummins/Deutz
Rated power
92kw
Min. futel consumption
190g/kw@ h
Rated speed
2200r/min
Noise(dB)
105
Transmission
Gearbox separated from torque converter
Model of torque devicePattern
YJ320
Pattern
3-element, single stage
Pattern of gear boxes
Full-powershift, countershaft type
Number of gear shift
4 forward, 2revers
Max. travel speed
45km/h
Main reducer type
Arc taper gear, moderation of double grade
Pattern of wheel side moderation
Single stage planetary
Tire size
17.5-25
Front tire pressure
343kpa
Rear tire pressure
304kpa
Steering System
Articulated and hydraulic steering
Steering angle(each direction)
37± 1
Min. turning radius(outside of bucket)
5700mm
Valve distributing working
DF25@ 2C
Working pumps
CBGQ2100
Brake system
Air assisted oil disc type four wheel brake
Service brake
Parking brake
Air cutting control inner expand hoof
Fuel tank capacity
108L
Wheel Loader ZL30 Detailed Photos: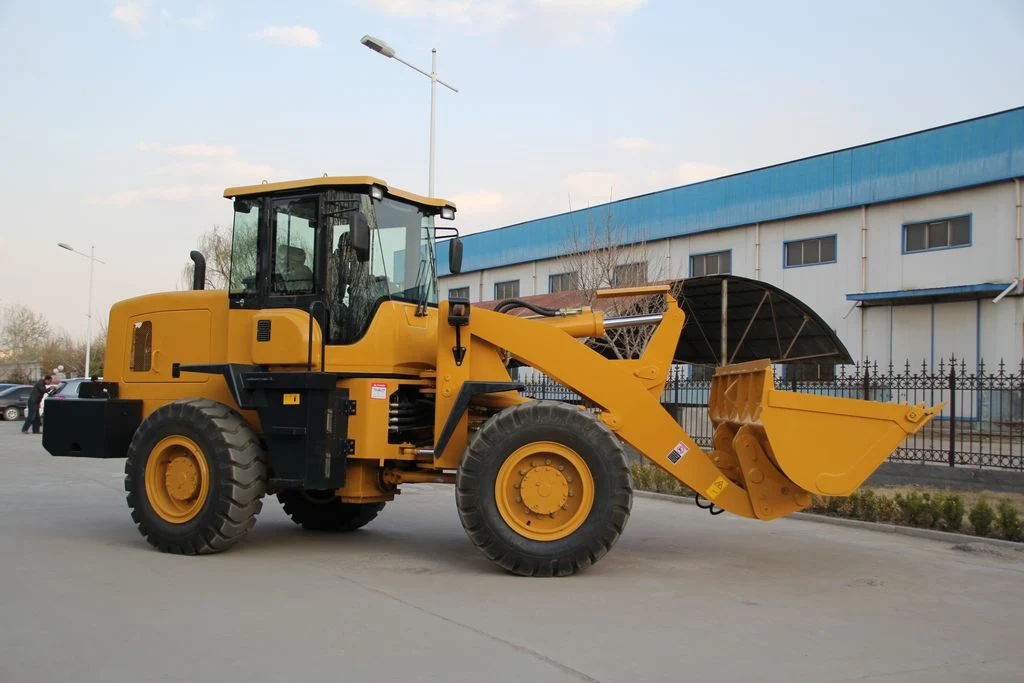 Our Exhibitions:

Loading Pictures:

The information above just for you referrence ,if you want to know more about our products and have questions about them ,please contact me 24h freely.

About Jieli:


Qingzhou Jieli Machinery Co., Ltd. is a factory, whih have more than 9 years wheel loader exporting experience. We started to produce wheel loaders ourselves under the help of our European customs. Most of our wheel loaders are designed on the basis of European customers suggestion. Now our products can be found working all over the world. We have agents in parts Europe countries, choose us will bring the surprise.

You are welcome to us have a visit.