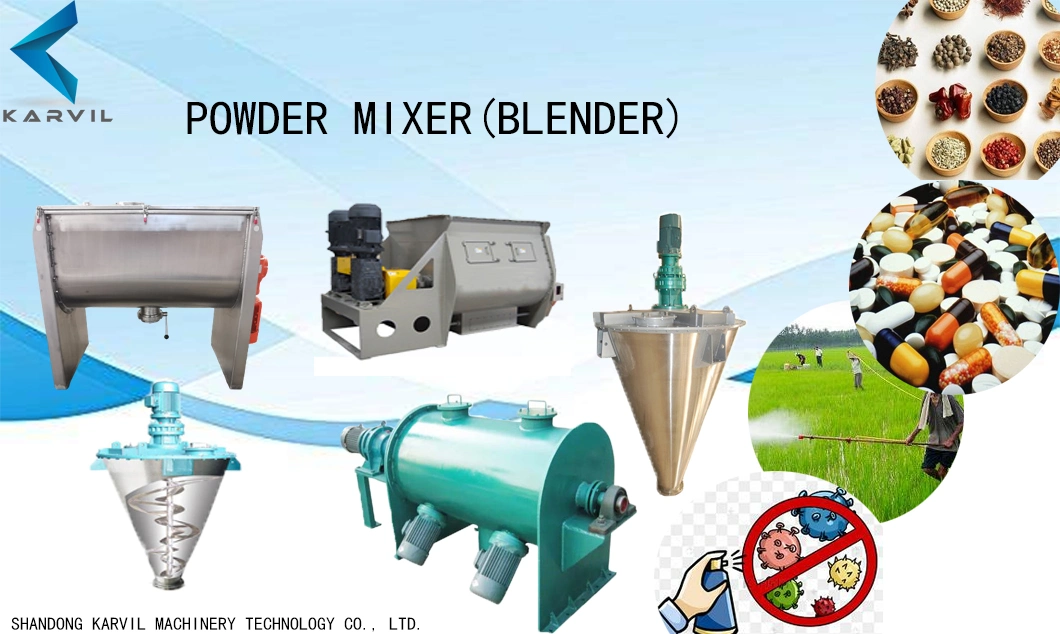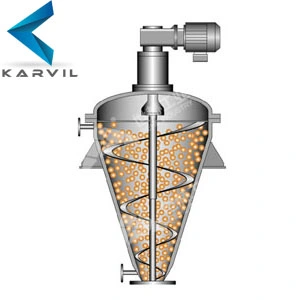 PRODUCT ADVANTAGES
The product can mix powder and powder, powder and granule, powder and flake materials. The equipment is composed of a transmission part, a vertical spiral strip, and an inverted cone barrel. When working, the screw drives the surrounding materials upward. , The center material falls down under the action of gravity, so the cyclic lifting and landing repeat the work, so as to achieve the purpose of uniform mixing and high mixing uniformity. Generally used in the production process of chemical, pharmaceutical, and food raw materials, a single product has poor taste, color, particle size, etc. due to production reasons. Finally, the raw materials are uniformly mixed into a batch of products to improve product stability and economic efficiency.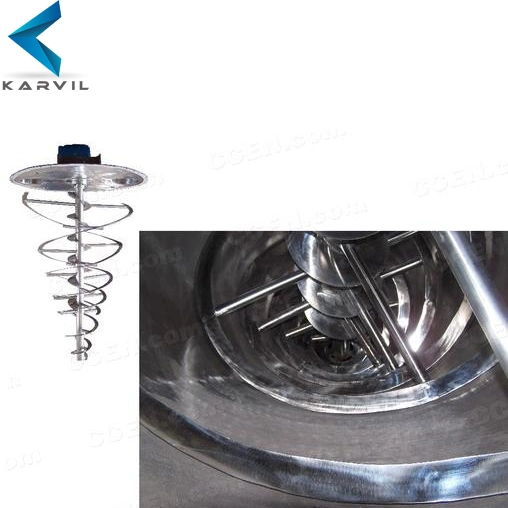 MAIN FEATURES

Equipment material: ordinary carbon steel, SUS304 stainless steel, various equipment materials for users to choose, meet the requirements of different products such as hygiene, corrosion, and wear resistance.
The product requires small power, high mixing uniformity, convenient discharging, large equipment volume, relatively long mixing time, and all general applications are used in large batch mixing, such as instant noodle seasoning, dye coloring and other environments.
The transmission parts of the machine are all outside the cylinder, and the mixing process does not cause any pollution to the materials. Now it has begun to completely replace the double spiral cone mixer.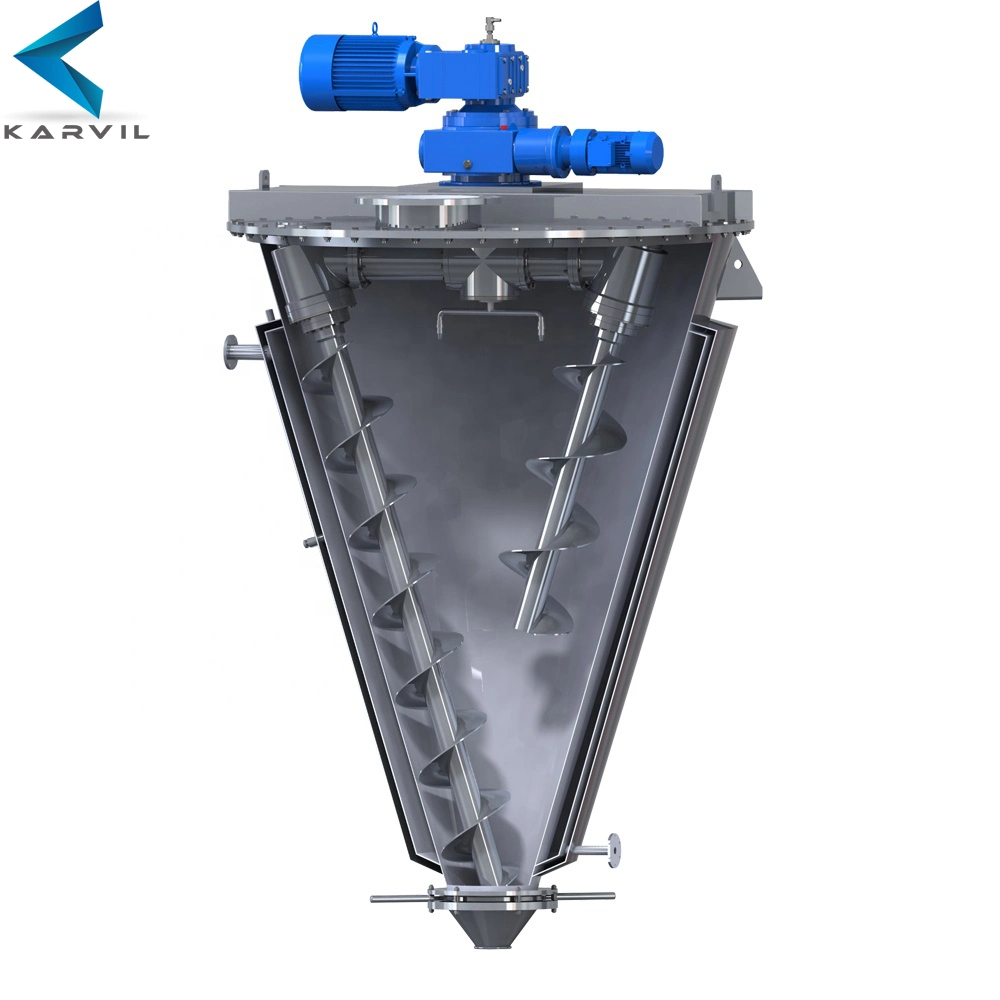 WORKING PRINCIPLE
The vertical ribbon mixer consists of a transmission part, a screw agitator and an inverted cone barrel.
When working, the spiral belt drives the surrounding materials to lift up, and the center material falls down under the action of gravity. In this way, the cyclic lifting and falling are repeated to achieve the purpose of uniform mixing and high mixing uniformity.
According to the power requirements of the equipment, two types of spiral belts along the cylinder and the intermediate shaft can be designed.
The barrel can be designed as a full inverted cone and an upper barrel type. Below 10 cubic meters is a cone shape, and above 10 cubic meters is an upper cylindrical shape.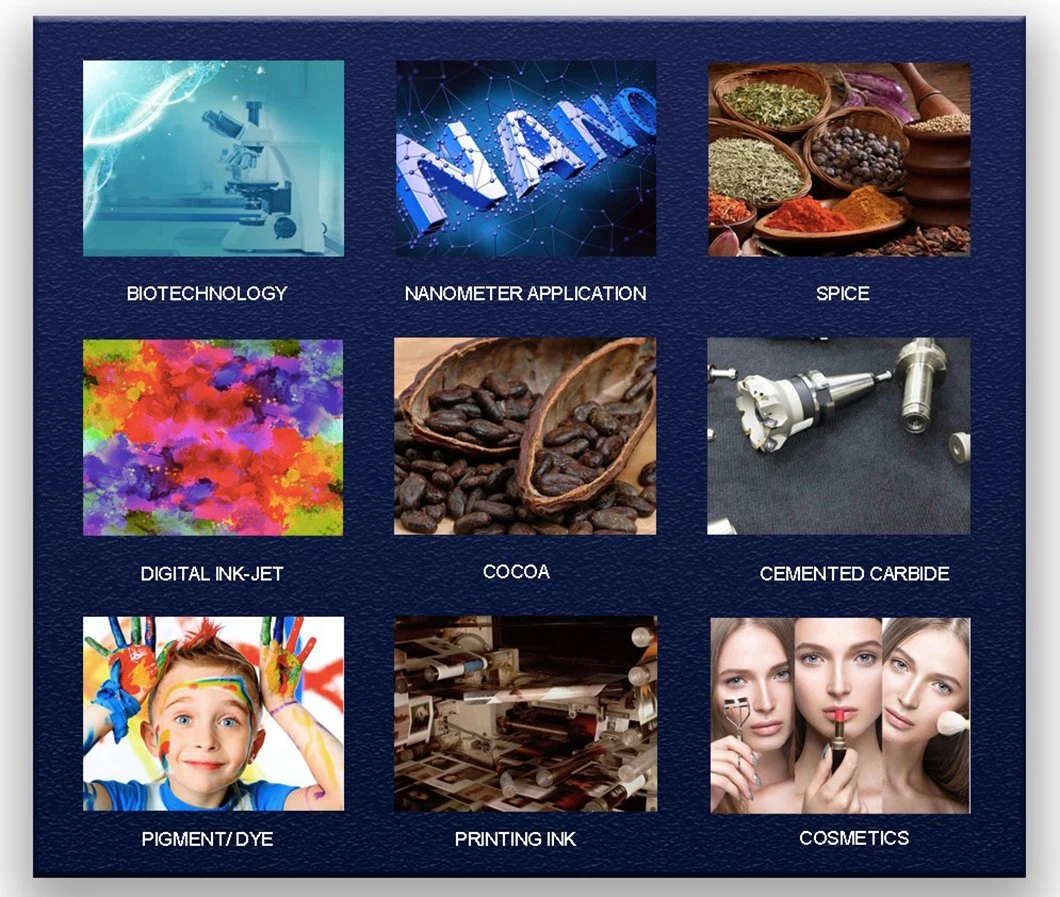 APPLICATION RANGE
It is suitable for the chemical industry, pharmaceutical industry, dyestuff, petroleum industry, metallurgical industry, construction material and etc. Such as in the mixing, reaction, drying, cooling of powder and powder(solid-solid), powder and liquid(solid-liquid), liquid and liquid.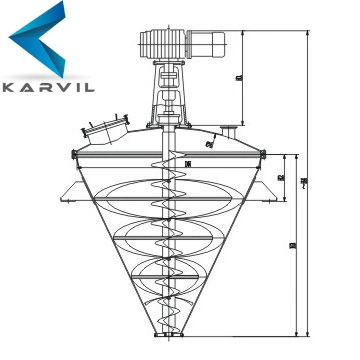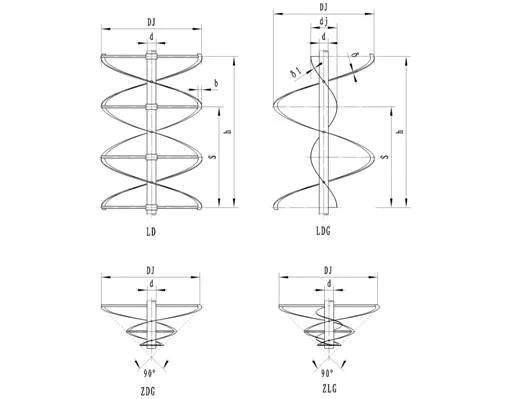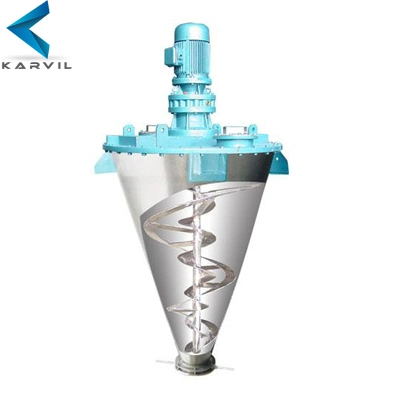 TECHNICAL PARAMETERS
| | | | | | |
| --- | --- | --- | --- | --- | --- |
| Type | Total volume (m³) | Load factor | Equipped Power (kW) | Overall dimension (mm) | Weight (Kg) |
| DSH-0.3 | 0.3 | ≤0.6 | 2.2 | 1929 Φ920 | 320 |
| DSH-0.5 | 0.5 | ≤0.6 | 4 | 2322 Φ1124 | 410 |
| DSH-1.0 | 1.0 | ≤0.6 | 7.5 | 2869 Φ1480 | 900 |
| DSH-1.5 | 1.5 | ≤0.6 | 11 | 3140 Φ1633 | 1200 |
| DSH-2.0 | 2.0 | ≤0.6 | 11 | 3489 Φ1900 | 1300 |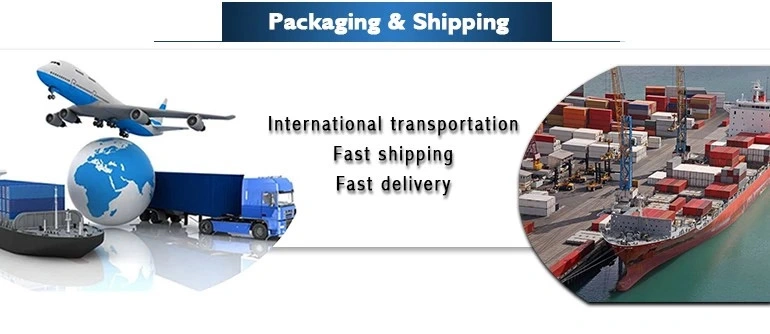 ABOUT US


Shandong Karvil Machinery Technology Co., Ltd. is specializing in the research, design, manufacturing and sales of mixing machines, grinding equipment and reaction machines. The company is committed to the advanced technology of machines, strict quality control standards and perfect sales service experience to achieve a win-win situation with our customers.

Karvil products have been successful used in the field of powder processing, food, medicine, fine chemical industry, cosmetics, adhesives, paints, inks, dyes, pastes, organic solvents and ceramics, etc.

Karvil engineering team constantly explores new technical points and promotes perfect solutions for our clients through efficient communication according to the production application.

Our company has a series of strict standards system to control the purchase of raw materials, the rationality of design, manufacturing process, during the inspection, product inspection, which could ensure the high quality of our products and create value for our clients.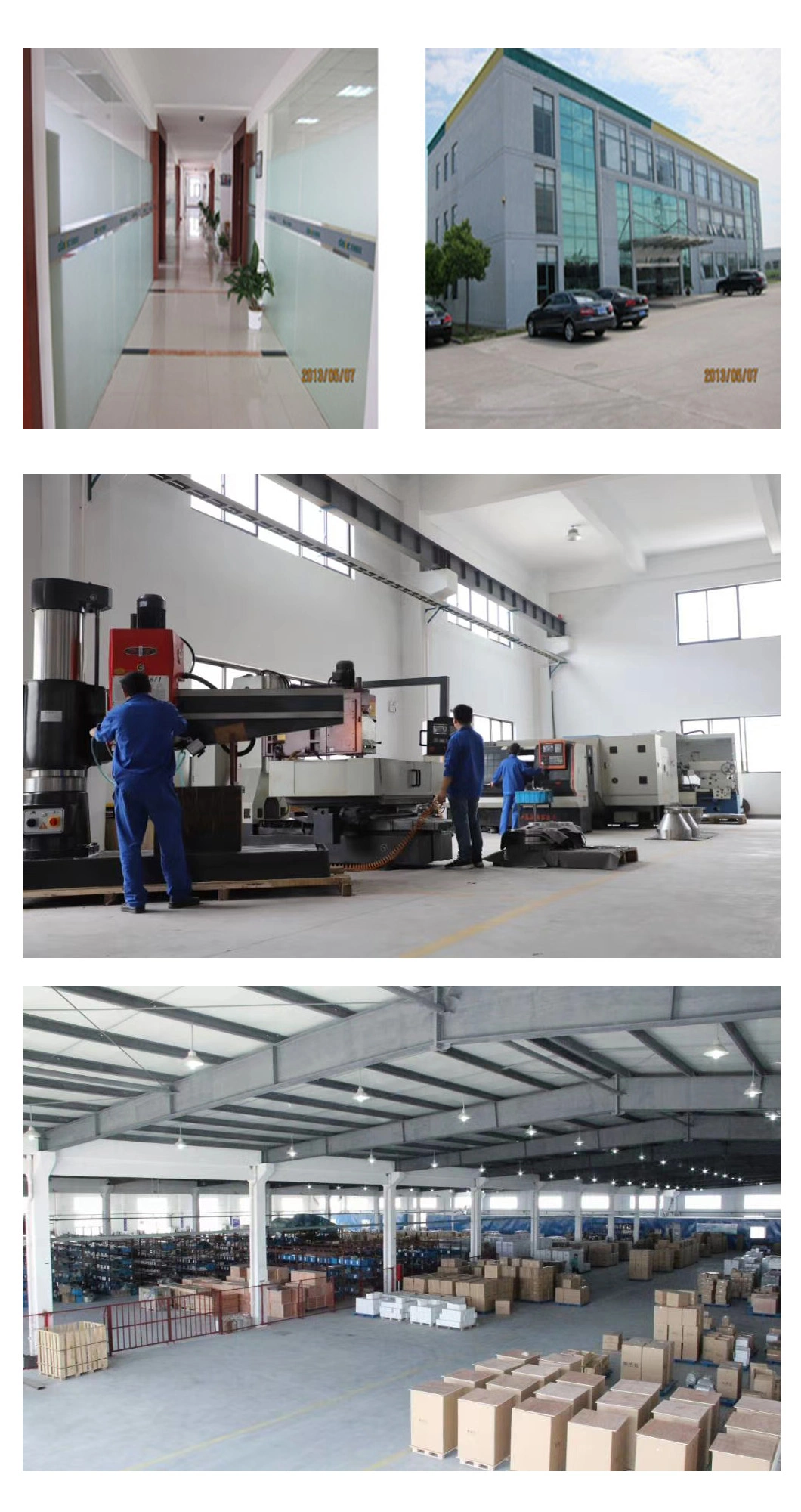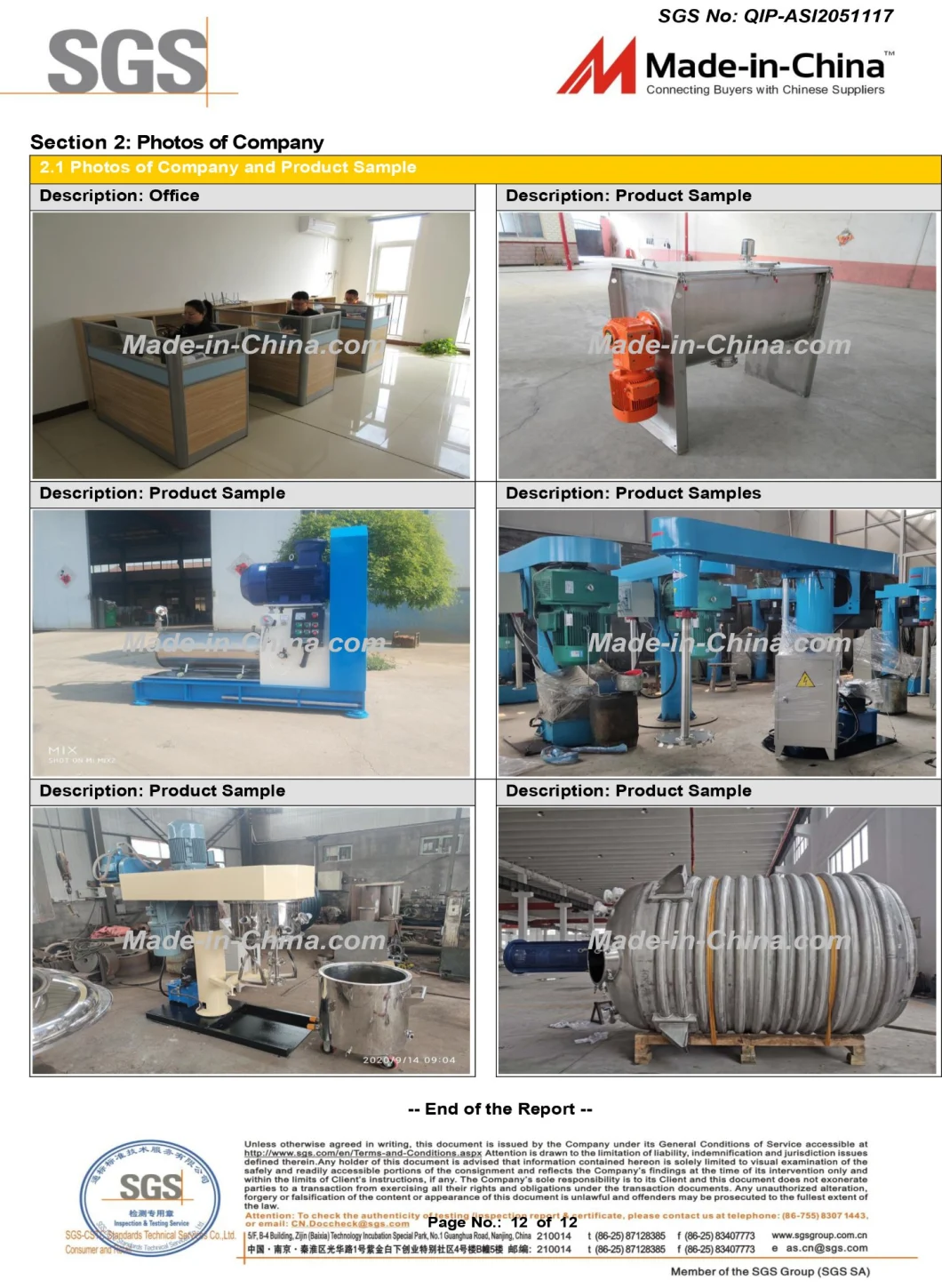 FAQ
1. Manufacturer or trading company?
We are a manufacturer with strict production standards in China.

2. Where is your company?
Our company is located in Yantai, Shandong,--Powder Equipment Industry Belt.

3. About your company's visit?
We can pick you up at Qingdao Airport conveniently, and then we can take you to our factory.

4. What is the main market for your company?
Asia and Africa, Australia, America, Europe.

5. Can you provide customized products?
Yes, we have professional engineers to meet your special design needs, so we can provide customized products.

6. What is your delivery time?
It usually takes about 20 to 30 days, the exact time also depends on the type and quantity of the product.

7. About the product warranty?
Usually, we provide a 1-year warranty for the products that have been sold, but we can also provide life-long service when you need it to maintain a long-term relationship with you.

8. What are the payment terms?
T/T, L/C, etc.