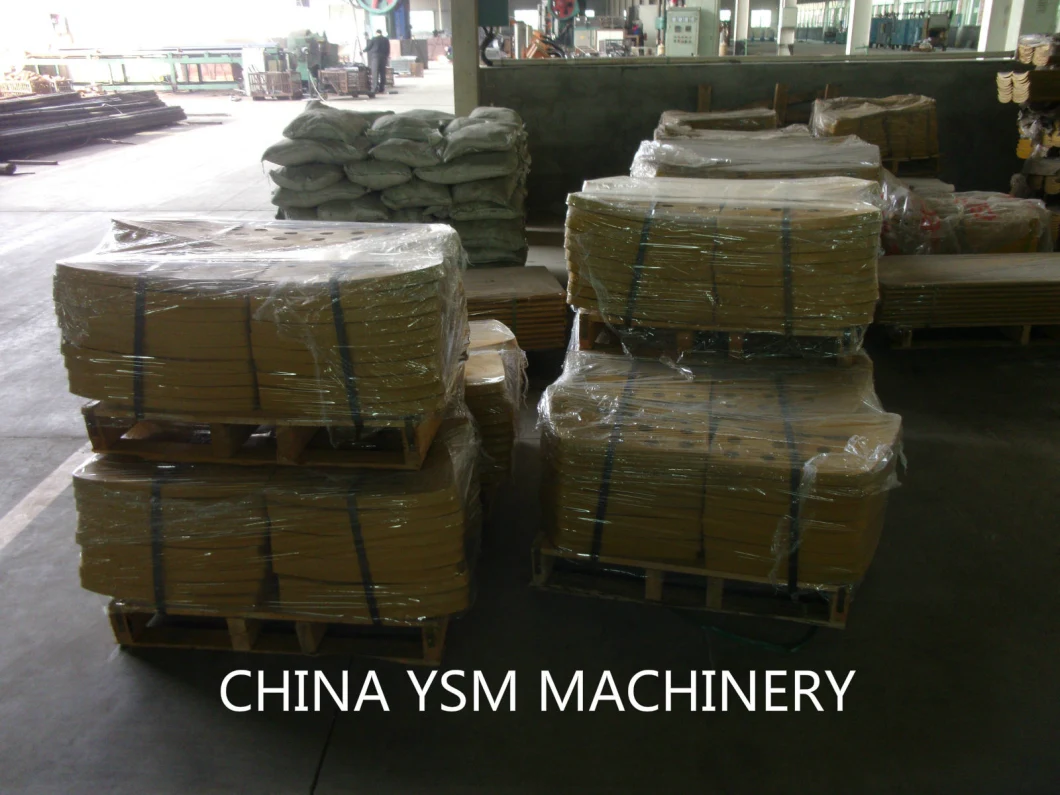 1.Specifications
1)Carbon or boron steel
2)Thickness from 16mm to 85 mm
3)After quenching, tempering treatment
4)Excellent wear resistance
5)Colors:Black or yellow
6) technique:Forging /casting
7)Certification: ISO:9001/14001
8).Capacity:20000/month
9).Warranty time: 2000 working hours
10).Brand: YSM
11)Surface Hardness: Carbon HRC280-320HB, Boron HRC440-520HB
12)Yielding Point: Carbon 600Re-N/mm2 , Boron 1440N/mm2
13)Tensile Strength; 1030 RM-N/mm2,1674 RM-N/mm2
?
2.Packaging & Delivery
Pakage detail: wood pallet
Delivery time:30days?
3.Cutting edge & end bits suitable for all brands dozers, and could make as customer's drawing.
?
?
4.Our products are built to deliver superior performance and long wear life which can make a real difference in you applications.
?
5.Suitable machine:
Bulldozer ??D20 D30 D31 D3B D3C D3D D40-1 D41-6 D4C D4D D4H D5 D50 D5B D5H D5M D6B D6C D6D D6H D6R D65 D7 D7E D7F D7G D7R D80 D85-12 D85-18 D8L D8G D8H D8K D8N D8R D9L D9N D155 D155A-1 D155AX D275 D355 D355A-3 D375-2/3,D455,D475,D575 etc.
Grader:??? 14G,16G,16H,GD series etc.
Komatsu
PC20, PC30, PC40-5, PC40-6,PC40-7, PC50, PC60-1, PC60-3,PC60-5/6, PC60-7, PC75, PC80, PC100-5, PC120-2, PC200-1, PC200-2, PC200-3, PC200-5/6, PC220-3, PC200-7, PC240-3, PC300-5/6, PC300-7, PC350, PC400-5/6, PC650, PC1000-1,
Hitachi
UH045, UH052, UHO53,UH063, UH07-5, UH09-7, UH04-7, UH083,
EX20UR-1/2, EX30, EX40-1, EX45-1, EX50UR, EX60-5, EX70, EX90, EX100, EX100-M,EX120, EX150, EX200, EX200-1,EX200-2/3/5, EX220-1/3, EX220-2,EX300, EX300-3, EX300-5, EX320/321,EX330, EX350, EX400, EX400-5, EX550, EX350, EX700, EX750-5, EX1100,
ZAXIS50, ZAXIS55, ZAXIS230,ZAXIS240, ZAXIS270, ZAXIS330, ZAXIS360,
FH220-3, FH220-3, FH330,
Caterpillar
E70B, CAT307/308, E120B, E180, E200B, E215,E215, CAT215BLC,CAT225, CAT225D, CAT225DLC, CAT235, CAT235DLC, E240,E240B, CAT311, CAT312, CAT313SR, E300, E300B, E300D, E320B, E320C, CAT322, CAT325, CAT325LN, E330, E330B, CAT330LN, CAT345, CAT350, E450
Sumitomo [U1]
LX02/03, LX08, SH60, SH75-3, SH100, SH120, SH200, SH220, SH250, SH260, SH280, SH300, SH340, SH580, SH450,LS200, LS280, LS1200, LS1600, LS2035, LS2050, LS2650, LS2800, LS2800FJ2, LS3400EJ, LS4300FJ2, LS5800C2, SC800, SC1000,
Kobelco
K903, K904B, K904C, K907B, K907C, K907D, SK07, SK027, SK04N2, SK07N2, SK09N2, SK60, SK100, SK120, SK120LC, SK200, SK200-6, SK220, SK230, SK235,SK300, SK310, SK320, SK330-6, SK350, SK400,
Volvo
EC55, EC210-7, EC240, EC290, EC360, EC460,
Daewoo
DH55, DH220-3/5, DH220LC, DH280-2, DH280-3, DH320, DH330, DH360,
Hyundai
R60, R60-5, R60-7, R130, R200, R210, R220, R290, R290LC-7, RX300, R305, R320,R914B,
Kato
HD250, HD400-2, HD400-5, HD450,HD700, HD770, HD820, HD880-1, HD1250, HD1880,
Mitsubishi
MS40, MS70-8, MS110-8, MS120,MS180-3, MS240, MS300-8,
Bulldozer
D20, D30,D31, D40, D40-1, D50, D60, D65,D80,D85, D85-12, D155,D155A-1, D155AX, D275, D355,D355A-3, D375-2/3,
D3B, D3C, D3D, D4C, D4D, D4H,D5, D5B, D5H, D5M, D6, D6B, D6C, D6D, D6H, D6R, D7, D7E, D7F, D7G, D7R, D8L,D8G, D8H, D8K,D8N, D8R, D9L, D9N,D10N, D11N